LIVING IN NEW ZEALAND
World-famous for its friendly people, spectacular landscape and relaxed lifestyle, New Zealand is an unbeatable place to live and study.
New Zealand offers a world class education system and globally recognised qualifications.
Studying in New Zealand means studying in a safe and supportive environment.
NAU MAI KI ROTORUA!/WELCOME TO ROTORUA!
Our school is located in the city of Rotorua, it has approximately 77,000 inhabitants. It is situated in the North Island of New Zealand. Rotorua is three hours drive by car to Auckland (New Zealand's largest city).
Rotorua is a fantastic place to live and study. There really is so much to do here!
Students can explore geothermal parks, experience rejuvenating spa and wellness therapies, wander through and around the beautiful Whakarewarewa Forest and many of our 18 lakes. Enjoy thrilling adventures and create many friends and memories whilst immersing yourself in the Māori culture. Rotorua is New Zealand's first bilingual city (Speaking both Māori and English) which allows students to have an authentic Māori culture experience. Of course, we also have award-winning cafés, restaurants and shopping appealing to all tastes and budgets.
A welcoming spirit and manaakitanga (hospitality, kindness) have been part of our DNA in Rotorua since visitors first started arriving in the 1800s.
Since then, Rotorua's steady growth and development have created excellent opportunities for students to live an enviable lifestyle with an excellent education, thriving arts and culture scene, excellent sports and extracurricular opportunities where students can try activities such as rafting, zorbing, mountain biking and so much more! We are proud to live in such a beautiful environment.
HOMESTAY ACCOMMODATION
At Western Heights High School, we accept three types of accommodation:
Living with a homestay family
Almost 100% of our students live with homestay families.
We have a number of warm and welcoming families in a range of locations, on lifestyle blocks and farms, in the city or by the lakes. Some families have children (young and old) and it is common for New Zealand families to have pets due to us having lots of wide open spaces.
Depending on your situation, we will strive to place you in a home that will meet your educational, extracurricular and lifestyle needs.
All of our host families are police vetted and are regularly checked by our accommodation coordinator to ensure your safety and that they are of an excellent standard.
Information will be provided to you regarding your homestay living arrangements to assist with your transition into your New Zealand residence.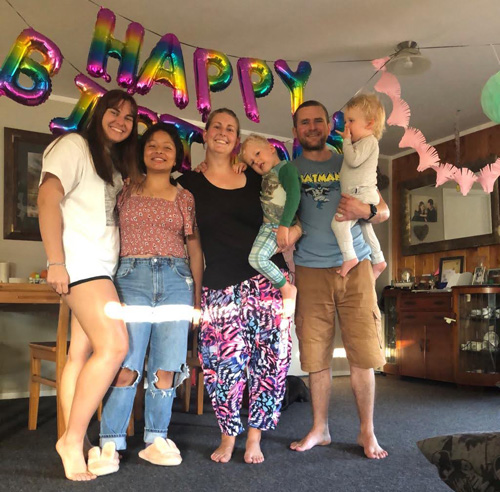 Living with a designated caregiver
The student's parents can designate a member of the family or a close friend to care for their child while they're in New Zealand. Safety and vetting procedures apply. Please notify us during the application process if you wish to have a designated caregiver.

Living with a parent
Staying with your parent/s allows the parent/s to apply for a guardian visa. Please notify us during the application process so that we may assist with accommodation as required.